Professional Artist Services

I build my signature bright, richly textured paintings for both commercial and residential collections. Using an animated range of shapes, lines and colors, I create large, multi-paneled works on canvas, and smaller works on canvas and paper.

My paintings are made with professional-grade materials, applied using dependable archival methods. All works on canvas are hand-stretched over keyable, lightweight pine stretcher bars. All works on paper are created on fine art cold-press watercolor paper.

From my studio in Portland, Oregon, I partner with gallerists, design professionals, art agents, and private clients to place my paintings nationwide. Commissioned, custom projects are welcomed.

To purchase or inquire about available artwork, or to request a consultation for a project, please email info[at]theresemurdza.com.

A curated selection of original works on paper is available online at Moberg Editions.

Your interest makes original, handmade art possible. Thank you.



EXHIBITIONS
The Big Oh! May 2013. Resonance Ensemble Concert Series. Portland, OR (commission)
New Works. Apr 2013. Coffeehouse Northwest. Portland, OR (solo)
24 Preludes & Fugues for Painters. Mar 2013. Shostakovich Fest. March Music Moderne Series.
10 Year Anniversary Exhibit. 2012. Moberg Gallery. Des Moines, IA
yes you yes. September 2012. Gallery 135. Portland, OR (solo)
Small Work IV. 2012. Ongoing showcase. Relish Home + Interior Design. Portland, OR
Reimagining Image. 2011. pushdot studio. Portland, OR (solo)
Small Works III. 2011. Ongoing showcase. Relish Home + Interior Design. Portland, OR
"...come Spring." 2011. Luke's Frame Shop. Portland, OR (solo)
Small Works II. 2011. Featured Artist. Relish Home + Interior Design. Portland, OR
Thérèse Murdza: Small Works. 2011. Relish Design. Portland, OR (solo)
Music and Memory. 2011. Resonance Ensemble Concert Series. Portland, OR (solo)
New Works. 2010. ArtWorks + Brewhouse Studio. Portland, OR (solo)
South Waterfront Holiday Auction. 2009. Featured Artist. Heidi McBride Gallery. Portland, OR
Schwabe, Williamson & Wyatt. 2009. Heidi McBride Gallery. Portland, OR (solo)
New Artists. 2009. Moberg Gallery. Des Moines, IA
Works on Paper. 2009. Moberg Gallery. Des Moines, IA
Dolce Dicembre. Robert Reynolds's Chef Studio. 2008. Heidi McBride Gallery. Portland, OR
Do North. 2008. Interstate Firehouse Cultural Center. Portland, OR
Fall Show. 2006. CornerHouse Gallery. Cedar Rapids, IA
Iowa Series II. 2005. Grinnell Community Art Gallery. Grinnell, IA (solo)
The Daily Palette. 2004. University of Iowa. Iowa City, IA
Iowa Series I. 2001. Grinnell Community Art Gallery. Grinnell, IA (solo)
The Opening. 2001. Third Space Studio. Durham, NC (solo)


SELECTED COLLECTIONS
Paintings on canvas and works on paper held in commercial and residential permanent collections including those in Boston, MA; Brooklyn, NY; Philadelphia, PA; Baltimore, MD; Lewes, DE; Washington, DC; Durham, NC; Cedar Rapids, IA; Grinnell, IA; Chicago, IL; Des Moines, IA; Denver, CO; Boise, ID; Anchorage, AK; Portland, OR; San Francisco, CA; Oakland, CA; Los Angeles, CA; and

Kaiser Westside Medical Center. Hillsboro, OR.
Creative Entertainment Management. Portland, OR
Aviva Life Insurance Co. Des Moines, IA
Smarsh, Inc. Portland, OR
Wellmark Blue Cross & Blue Shield of Iowa and South Dakota, HQ. Des Moines, IA
Mirabella Portland, South Waterfront. Portland, OR
Mercy Medical Center - West Lakes. Des Moines, IA
Marshalltown Public Library. Marshalltown, IA
Mercy Cancer Center - West Lakes. Clive, IA
Casey Eye Institute. Office of Dev. Oregon Health & Science University. Portland, OR
The Daily Journal of Commerce. Portland, OR
The Eleanor Building. Durham, NC
The Stone House. Mebane, NC
Department of Psychiatry and Behavioral Science. Duke University. Durham, NC


RELATED EXPERIENCE and COMMUNITY EVENTS
| | | |
| --- | --- | --- |
| 2013 | | Artist. The Sketchbook Project. Arthouse Co-op/Brooklyn Art Library. Brooklyn, NY |
| | | Artist, Organizer. Feb 1 Ford Building Open House Event. Portland, OR |
| 2012 | | Artist. ArtBlox. Fundraiser. Mary Lou Zeek Gallery. Salem, OR |
| | | Artist. Launch Party & Auction. Fundraiser. From the Ground Up. Portland, OR |
| | | Artist. Portland Open Studios Tour. Juried. Portland, OR |
| | | Artist. Art of Life Benefit Show & Auction. Mercy Hospice. Des Moines, IA |
| | | Artist. The Sketchbook Project. Arthouse Co-op/Brooklyn Art Library. Brooklyn, NY |
| | | Artist, Organizer. Ford Building 2nd Floor Gallery Events. Portland, OR |
| 2011 | | Artist. Portland Open Studios Tour. Juried. Portland, OR |
| | | Artist, Organizer. Ford Building 2nd Floor Gallery Events. Portland, OR |
| | | Vendor. Abernethy Art + Craft Show. Fundraiser. Juried. Portland, OR |
| | | Artist. Art of Life Benefit Show & Auction. Mercy Hospice. Des Moines, IA |
| | | Artist. Art Evening & Auction. Cascase AIDS Project. Juried. Portland, OR |
| | | Artist. An Artist A Day. Fundraiser. Juried. Muse Art + Design. Portland, OR |
| | | Board Member. Resonance Choral Ensemble. Portland, OR |
| | | Participant, Ford Building Liaison. SE Portland Artwalk. Portland, OR |
| 2010 | | Artist. Art of Life Benefit Show & Auction. Mercy Hospice. Des Moines, IA |
| 2009 | | Artist. Art of Life Benefit Show & Auction. Mercy Hospice. Des Moines, IA |
| 2008 | | Artist-in-Residence, Teaching Assistant. Grinnell Art Factory Studios, Grinnell, IA |
| 2007 | | Painting Teacher. Summer Arts Camp. Grinnell Art Factory, Grinnell, IA |


SELECTED BIBLIOGRAPHY
A Holstein. (2011, May 9). "Top Design Trends with Trisha Guido." At Home. Portland Monthly Magazine. Web.

"An Open House" by Diane Daniel. From the series of articles "How to Live With Art". North Carolina Signature Magazine. Nov/Dec 2007. Features collectors Tema Okun and Tom Stern.

"CornerHouse Gallery features New Works by Favorite Artists." Iowa Cultural Corridor Alliance. CulturalCorridor.Org. Sept 2006.

"Beyond Faulconer and Burling: Town's Unassuming Gallery Exhibits Much More Than Kids' Drawings" by Cid Standifer. The Scarlet & Black. 4 Nov 2005.

The Spiritual Activist: Practices to Transform Your Life, Your Work, and Your World. Claudia Horwitz. New York: Penguin USA, 2002. Interviewed for chapter "Mindfulness."

Exploring Realities: Stories of Young Women Making Decisions and Finding Meaning. Maura Wolf. Durham, NC: Stone Circles, 2000. Interviewed for chapter "Art, Education and Adventure."


EDUCATION

| | | |
| --- | --- | --- |
| 2008 | | Regional Arts and Culture Council. Mural Painting with Larry Kangas, Portland, OR |
| 2003 | | ArtSchool at The ArtsCenter. Botanical Drawing. Instructor Luna Lee Ray, Carrboro, NC |
| 2002 | | Durham Arts Council School. Life Drawing. Professor Cong Yuan, Durham, NC |
| 1986 | | BSc, Towson University, Towson, MD |


PROFESSIONAL ORGANIZATIONS
Member, International Sculpture Center
Member, Contemporary Arts Council, Portland Art Museum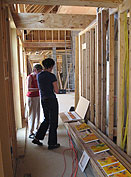 CONTACT
info@theresemurdza.com
(503) 593-9436
Ford Building
2505 SE 11th Ave, #227
Portland, OR 97202

FOLLOW: